What's New
With this release, we've materially shifted the ACP Tool user experience to make it easier for providers to record and document ACP discussion. Below are the major updates.
New Layout
The ACP Discussion form is now front and center on the homepage, not hidden behind a button. Advance Directives are now in a side "drawer" that can be opened with a click with two sections--Completed and New. Depending on the Advance Directive type, you can Print Blank, Print with a Cover Sheet, Email, or Complete Digitally.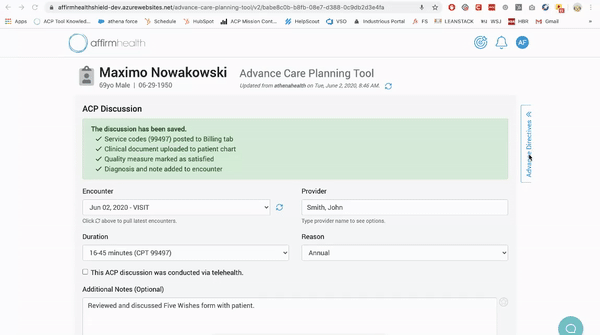 Auto Documented Notes
Anytime you review an existing advance directive or generate a new one, we'll automatically make a note for you in the "Additional Notes" section of the ACP Discussion form, so you can skip the manual data entry.
Guided Conversations
Guided Conversations provide step-by-step prompts to help you capture the most important elements of Advance Care Planning discussions. Notes recorded through the Guided Conversations automatically populate the Additional Notes section and are transmitted to the Patient Chart.